For a limited time: Free Consultation and $50 off each treatment
IV Solution and Ketamine Centers of Chicago
Chicago's first and foremost clinic to provide innovative intravenous medical treatments for the treatment of
DEPRESSION, CHRONIC PAIN, FIBROMYALGIA,
and other ailments
What our Patients are Saying
...I can honestly say IV ketamine therapy is a miracle.
I felt dramatically better the day after my first treatment for depression...
...the results have exceeded my expectations - not only has my neuropathy pain been significantly reduced, the symptoms of depression have lifted and I feel terrific! I wholeheartedly endorse this form of treatment and would recommend to anyone suffering the after-effects of chemotherapy.
I spent most of my life trying to find a depression and anxiety medication that worked for me.... I decided to give [ketamine treatments] a shot. I can't tell you what a difference it has made in my life! It was a very quick and noticeable change in not only my attitude and overall outlook on life, but it felt great to be excited again... Without trying to sound too cliche, its literally changed my life!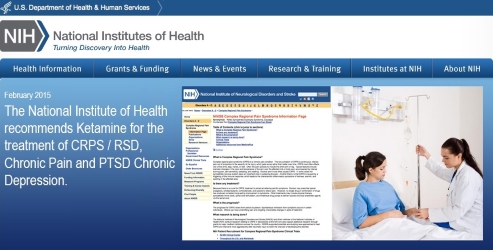 February 2015, The National Institute of Health recommends Ketamine as a viable treatment for CRPS / RSD, Chronic Pain and PTSD Depression.
Email us now
at
712 North Dearborn Street
Chicago, Illinois 60654
Phone: 844-9-IV-MEDS   844.948.6337